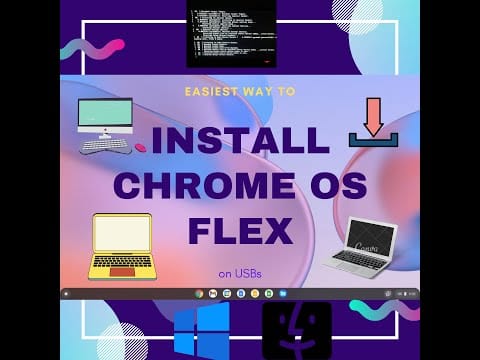 Today we are going to use easiest way to install Google Chrome OS Flex on your laptop or PC. And we will also show you the easiest way to remove Google Chrome Flex from the PC system. What's the Google Chrome OS Flex? Google Chrome OS Flex is a simple, speedy and secure operating system. Google Chrome OS Flex is a new computer operating system (OS) like Microsoft Windows or Apples macOS (OSX). It's based on Google Chrome OS which is preinstalled on Chromebooks. Google Chrome OS itself is based on Linux. Note: Google Chrome OS Flex is early access only, so you might face issues.
#ChromeOSFlex #GoogleChromeOS #Linux #Easiest #Install #Free #uninstall
➤ Certified models list https://support.google.com/chromeosflex/answer/11513094
➤ Chromebook Recovery Utility https://chrome.google.com/webstore/detail/chromebook-recovery-utili/pocpnlppkickgojjlmhdmidojbmbodfm
➤ Installation image on CrOS Updates Serving https://chromiumdash.appspot.com/serving-builds?deviceCategory=Chrome%20OS%20Flex
Requirements & consideration
Verify if your device is certified (link above)
Google Chrome browser
USB 8 GB or more
x86-64-bit compatible device
RAM: 4 GB (2 GB worked on my test)
BIOS access to boot from USB
16 GB Internal Storage or more, it will consume the whole disk, so keep data backups
No good support for components made before 2010
Spare about 40 or 20 minutes, depending on your internet speed
USB Creation Procedure
Install Chromebook Recovery Utility (link above)
Start Chromebook Recovery Utility from the list of extensions on the top bar
Click "Get started", click "Select a model from a list"
Click "Google Chrome OS Flex"
Click "Chrome OS Flex (Developer-Unstable)"
Click "Continue"
Select the USB drive & Click "Continue"
Click "Create now"
Note: It seems easiest way but not suitable for multiple USBs or USB creation over time. So what's the best way for multiple USBs or USB creation over time? Linux OS! If you don't know about Linux OS then try to install it OR try to use in WSL (Windows Subsystem for Linux) on Windows.
Multiple USBs creation or USB creation over time
Download the installation image (link in description), click on the latest number to download image i.e 102, 101, 100, 99, etc
It's a zip file, unzip it i.e chromeos_14685.0.0_reven_recovery_dev-channel_mp-v2.bin, I'll reference it as file.bin
Insert your USB drive (size 8 GB or more), it will overwrite data, so take backups
Open command prompt terminal (what's it? Learn!) & execute following (it would ask for password, provide it & press enter key)
sudo dd if=file.bin of=/dev/sdN bs=4M status=progress
Here, "N" in "sdN" above refers to the USB name character i.e b, c, d, etc. If there's only one USB in the system then this "sdN" could be "sdb". Be careful about the USB name character, it will overwrite data on the drive
So now you can create multiple USBs or recreate USB as many time as you like using above command because you have downloaded the installation media on the disk
Boot from installer USB
Turn off the target device
Insert the Google Chrome OS Flex USB installer
Boot the device from USB installer by pressing the power button & begin pressing your device's boot key repeatedly
What are the boot keys?
Acer: F2, Asus: Del, Dell: F12
Gateway: F1, HP: F9, Intel: F2
Lenovo: F12, Toshiba: F2 or F12
Apple: hold option (next to the ⌘ key)
Other: try pressing Esc, any of F1-F12 keys, or enter key
Installation from the USB
After the boot, you can explore live environment or start installation
It would ask you to connect with WLAN (WiFi)/LAN
Choose the install option from the login screen or during boot process
Keep in mind the on-screen warning about erasing data
Keep accepting the check boxes & follow the instruction
You'll see a message on screen when installation is complete, the device will turns off automatically
Take out the installer USB from the device
Turn on the device and start using Google Chrome OS Flex
How to Uninstall Google Chrome OS Flex?
Create installation media of Windows, macOS, or Linux
Boot from the installation media
Start installation
On the disk partition step, remove all drives & create new drives for Windows/data or create new disk partition
Keep in mind that in above step, all of your data would be removed from the disk so keep backups
Continue rest of installation as usual
install chrome os flex on mac
download and install chrome os flex
how to install chrome os flex on a windows laptop
how to install chrome os flex in computer
install chrome os flex di laptop
chrome os flex install dell laptop
install chrome os flex on external hard drive
how to install chrome os flex on low end pc
install chrome os flex from usb
install google chrome os flex on old macs
how to install chrome os flex in government laptop
how to install os flex in laptop
install chrome os flex on hp laptop
how install chrome os flex
how to install os flex in windows 7
how to install os flex on mac
install flex in windows 10
Slides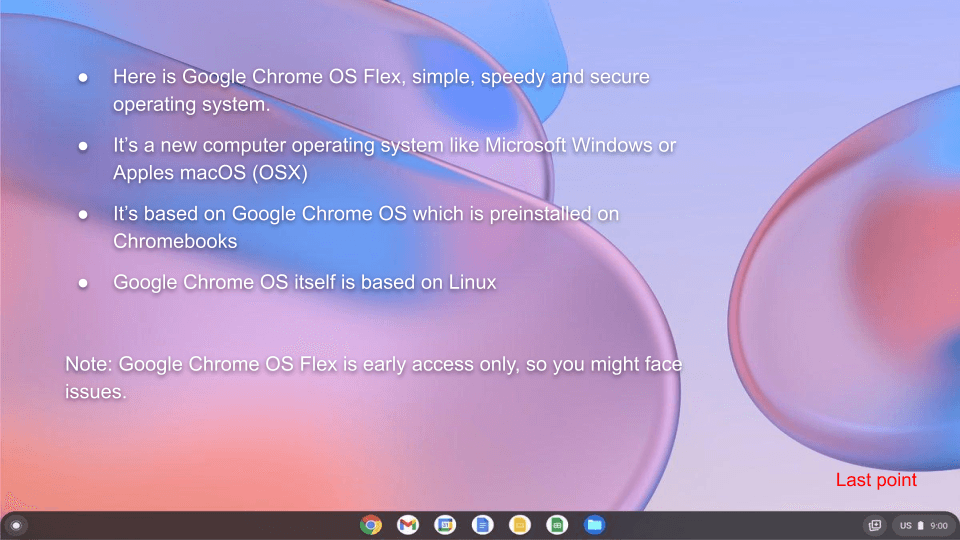 Screenshots