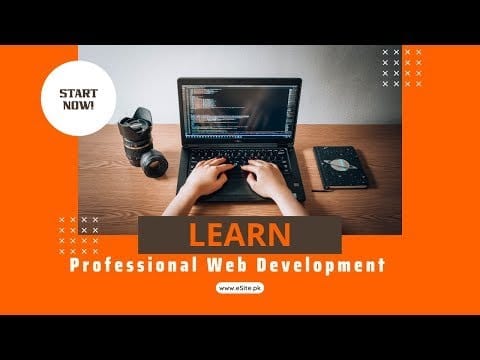 Learn Professional Web Development – HTML, Paid Course. You might hear the word "Freelancing" or earning money online. A common question that pops up in mind, who is eligible? How to learn any of the demanding skills and start earning money?
تین ہزار روپے ماہانہ پر آف لائن (شام 4 سے 6) و آن لائن (دن 3 سے 4) پروفیشنل ویب ڈویلپمنٹ کا کورس کریں۔ سنجیدہ خواتین و حضرات، کلاسز کے لیے ابھی کورس خریدیں۔ عامر شہزاد، روشن ٹیک، جی بلاک، اٹک شہر۔
http://esite.pk/product/web-development-course/
کورس میں شامل ہونے کے لیے سگنل ایپ اپنے موبائل و کمپیوٹر پر انسٹال کریں اور سگنل ایپ پر ہمیں 03005393652 پر پیغام بھیجیں و نیچے دیا گیا گروپ جوائن کریں۔ پھر دن تین بجے کے بعد گروپ میں کلاس شروع ہونے کا انتظار کریں۔
https://signal.group/#CjQKIEduv9mKdbdvr-94GRCpr8VnOnL8793OR45sZSmj4YjrEhAknMWuIZwC5N_GdcIIr6If
السلام علیکم دوستو، ویب ڈویلپمنٹ کورس میں خوش آمدید۔ ہمارا یہ کورس تفصیلاً ہے جس کا یقینا آپ کو بہت فائدہ ہوگا۔ کورس خریدنے کا لنک نیچے دیا گیا ہے۔
http://esite.pk/product/web-development-course
کورس کی ویڈیوز چند شرائط کے ساتھ مفت دستیاب ہوں گی۔ وہ کیسے؟
https://youtube.com/playlist?list=PLuSlqiqQkM0wQ9DaCBHNV8xV1fJQupfCg
آپ نے آخری شئیر کی گئی ویڈیو پر مندرجہ ذیل کام کرنے ہونگے۔
1۔ ویڈیو کو لائک یا دس لائک کرنا۔
2۔ کمنٹ میں ویڈیو کو پسند/ناپسند کرنے کی وجہ بیان کرنا۔
3۔ ویڈیو کو اپنے تمام سوشل میڈیا پلیٹ فارم پر شیئر کرنا۔
4۔ ویڈیو کی سمری اپنے الفاظ میں بیان کرنا۔
5۔ ویڈیو کی ٹائم لائن کمنٹ میں شیئر کرنا۔
ویڈیو کی ٹائم لائن کیا ہے؟
یہ بہت آسان کام ہے، آپ نے صرف یہ کرنا ہے کہ ویڈیو میں جس جس مقام پر جو جو بات کہی گئی ہے وہ ٹائم کے ساتھ لکھ دینی ہے مثال کے طور پر
00:05:35 Video timeline explained
اس کے علاوہ کورس میں بتائے گئے کوڈز بھی مفت دستیاب ہوں گے۔ جو کہ نیچے دی گئی ویب سائٹ سے حاصل کیے جا سکتے ہیں۔
https://github.com/asakpke/Web-Development-Course
Remember! You are never too old to set another goal or dream a new dream. Whatever you are currently enrolled in, you can become a professional freelancer.
In the freelancing world, one can sell an immense variety of skills. However, at the start, you may hesitate or have you face the fear. Lots of queries arise in newbies like where to start? Some of them may think to learn the easy peasy expertise and promote it.
The urge to grasp expertise in your favorite skill will overcome anxiety.
If you want to become a web designer or developer you can, irrespective of background knowledge. Surprisingly there is great news for those having an interest in "WEB DEVELOPMENT". A bright opportunity to pave the path towards designing interactive websites with Sir. Aamir Shahzad. He is the owner of Roshan Tech, besides IT professional, experienced in web development, Linux operating system, and much more.
The Web Development course content will contain the latest tips and tools required while web development, at the cost of only 3000 RS/- You can visit the www.eSite.pk to explore further.
Mark the schedule for online and onsite class sessions.
On-site (office) classes (4-6 PM) Be on-time
Online classes (3-4 PM) Anyone can join
An additional edge for academy students is that they can have recordings of online lectures as well.
SO Just Do It Navigate to http://esite.pk/product/web-development-course/, choose the desired course, add to your cart. Do not miss the chance of becoming a web developer and designer. Hurry up to avail this golden chance, as the time is running out.
#learn #webdevelopment #course #free #videos #intro #muft #html #css #js #javascript #php #mysql #earn #urdu #hindi
#اردو #ہندی #سیکھو #ویب #پروگرامنگ #مفت #ویڈیوز #ایچ_ٹی_ایم_ایل #سی_ایس_ایس #جاوا #سکریپٹ #پی_ایچ_پی #مائی_ایس_کیو_ایل