Description
Educational Gaming USB is specially developed for school going kids (even minors/elders get benefit). Fast, virus free and great for multimedia/web. 400+ different educational/gaming/softwares in one 8 (or 16) GB USB to boot. Amazing gift for kids. Order now on +923325602066/+923005393652. Cost just Rs.1000. Free delivery within Pakistan! More info/video
Gift for kids! This is my Edu/Gaming OS for school going kids. Kid learns from Educational/Gaming software, good for parents. This is delivered in USB. Look further details below if you are interested. Video review in Urdu at the end.
ایجوکیشنل گیمنگ یو ایس بی اسکول جانے والے بچوں کے لیے خصوصی طور پر بنائی گئی ہے۔
جو کہ بچے و بڑوں سب کے لیے کارآمد ہے کیونکہ یہ تیز رفتار، وائرس فری اور انٹرنیٹ و ملٹی میڈیا کے کاموں کے لیے بہترین ہے۔
اسمیں 400 سو سے زیادہ ایجوکیشنل گیمنگ پروگرامز شامل ہیں
جو کہ ایک 8 یا 16 جی بی کی یو ایس بی میں بوٹ کرنے پر دستیاب ہیں۔
بچوں کے لیے یہ انمول تحفہ ہے۔ ابھی آرڈر کریں
03325602066/03005393652
قیمت صرف ایک 1000 روپے۔
پورے پاکستان میں مفت ڈلیوری۔
اگر آپ نے ایجوکیشنل گیمنگ یو ایس بی آڈر کرنی ہے تو ہم کیش اون فری ڈلیوری کی سہولت دے رہے ہیں
یعنی چیز جب آپ کے گھر پہنچ جائے، اس وقت پیسے (1000 روپے) ادا کریں۔
فری ڈلیوری کے لیے ہمیں آپکا مکمل پتہ اور فون نمبر درکار ہے۔
ایجوکیشنل گیمنگ یو ایس بی 8 یا 16 جی بی کی ہے.
اسے آپ یو ایس بی سے بوٹ کر کے بھی استعمال کر سکتے ہیں
اور قانونی طور پر جتنے مرضی پی سی یا لیپٹاپ پر انسٹال بھی کر سکتے ہیں
Screenshot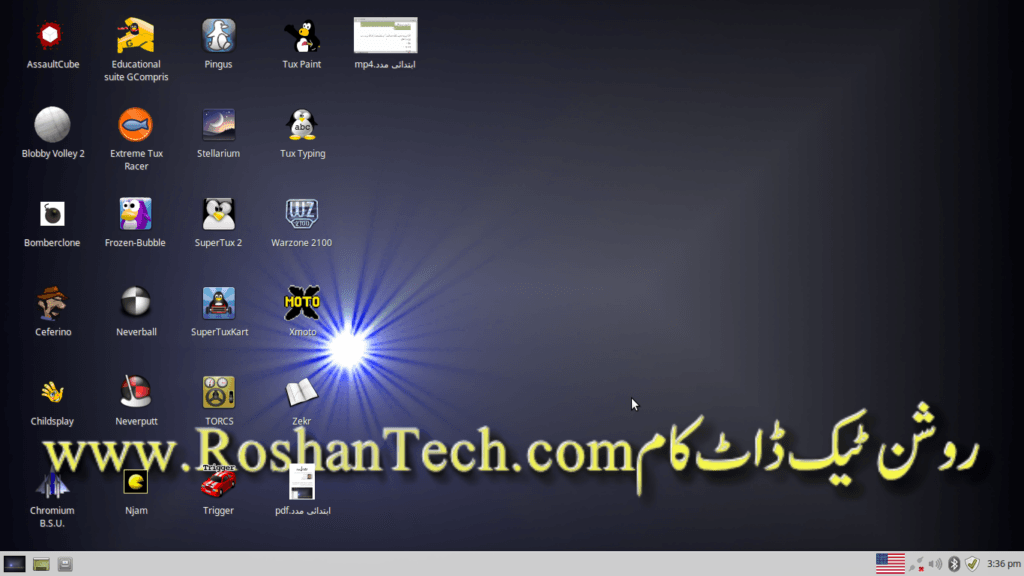 Poster in Urdu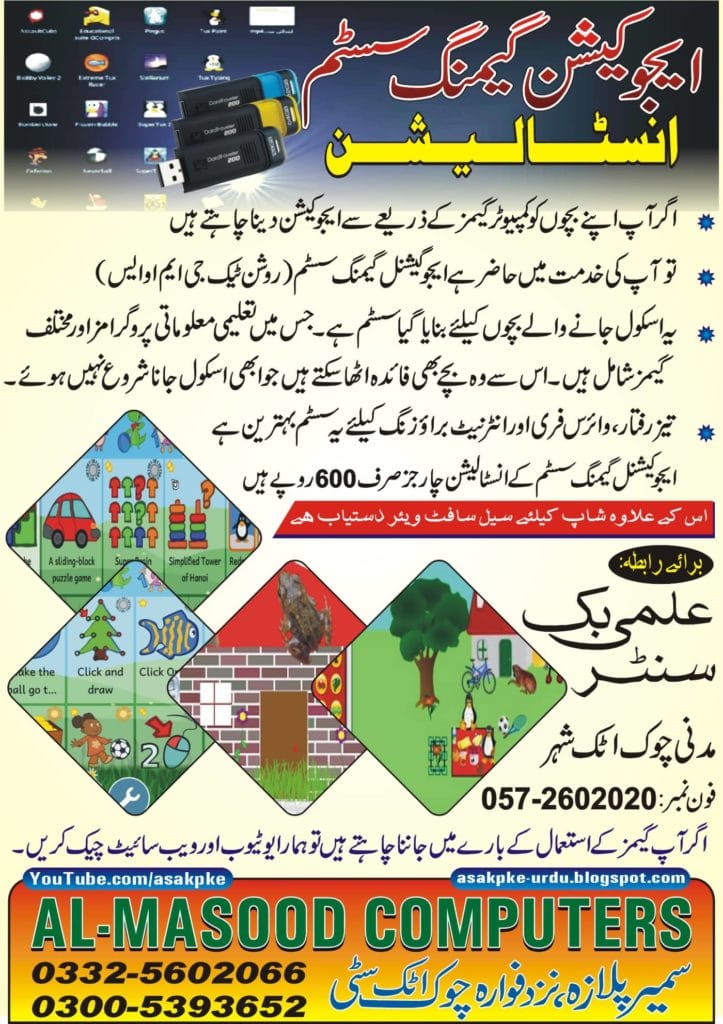 Availability on Shops
It's available on following shops at Attock City (hopefully soon in Rawalpindi/others):
Tashkeel Book Depot, Civil Bazar, 057-2610003, 0333-5620700, [email protected]
Ilmi Book Depot, Madni Chowk, 057-2602020, 0333-5531571
Basic use Video in Urdu/Hindi
Installation Process in English
Before starting the installation, make/use 2 partitions

One for root. Rename/title it GMOS. Root partition could be 15 GB or more is recommended
One for swap. Rename/title it SWAP. Swap partition could be double of your RAM but not more than 2 GB. This is better but optional step, so you may skip it

Boot with USB Installer
Enter Full name, username, password and host name
Next steps are very crucial, be careful.You are going to select root partition

Click the partition made for root
Select the mount point '/'
Select file system 'ext4'
Tick format if required
Click 'Change partition settings' button with green colored icon (← symbol on it)

Now select Swap partition (this is better but optional step, so you may skip it)

Click the partition made for swap
Select the mount point 'SWAP'
Click 'Change partition settings' button with green colored icon (← symbol on it)

Tick "Transfer user configuration and data files"
And click next
Installation Process Video in Urdu/Hindi
Before we didn't allow to install from our Educational Gaming USB (RoshanTech GMOS). Now we let it go & you can install it legally to as many systems (PCs/Laptops) as you like! Existing customers, please contact us to get this FREE option in your Educational Gaming USB. Educational Gaming USB price is just Rs. 1,000 only. FREE deliver within Pakistan. Normally it takes 2 or more working days to deliver. Keep sharing this opportunity.

کمپیوٹر پر انسٹال کرنے کا ویڈیو طریقہ
ایجوکیشنل گیمنگ یو ایس بی کو قانونی طور پر جتنے مرضی پی سی یا لیپٹاپ پر انسٹال بھی کریں
ایفیلی ایٹ پروگرام
ضلع اٹک کی آبادی تقریبا 20 لاکھ سے کچھ کم ہے۔
اگر روشن ٹیک جی ایم اہ ایس (جو کہ بچے، بڑوں دونوں کے لیے کارآمد ہے) سب کو سیل کیا جائے
تو یہ رقم 4 کروڑ (آپ کا فائدہ، ہمارے ایفیلی ایٹ پروگرام کے مطابق) بنتی ہے۔
یقینا ایسا کرنا بہت مشکل یا ناممکن ہے۔ اگر آپ صرف 0.5 فیصد لوگوں کو یہ سیل کریں
جو کہ 10 ہزار لوگ بنتے ہیں تو ہمارے ایفیلی ایٹ پروگرام کے مطابق آپ 20 لاکھ کما سکتے ہیں!۔
تو کون کون ہمارے ساتھ شامل ہونے کے لیے تیار ہے؟ اٹک کا نام بس مثال دینے کے لیے تھا
ہر علاقے کے لوگ اپنے حساب سے سمجھ لیں۔
ہم آپ کے ساتھ تقریبا 33 فیصد (یا اس سے کم/زیادہ) فائدہ شیئر کرنے جا رہے ہیں۔
سنجیدہ دلچسپی رکھنے والے خواتین و حضرات ان باکس کریں یا مجھے سے ملاقات کریں۔
FREE installation Offer
We are offering FREE* installation of Educational Gaming System (RoshanTech GMOS) on one computer lab PC for Schools, Tuition Centres, Internet Clubs and any other organization having computer lab. Halonix Internet Cafe is one of the 1st to entertain this offer. Anybody can check our Educational Gaming System there at Ahmed Plaza, Near Sojanda Bata Ada, Attock City. Share on your wall or friends' to promote this FREE opportunity.

* You must need to purchase at lest one install to get this FREE offer
Video Review in Urdu/Hindi
Hi, welcome to the Edu Gaming (RoshanTech GMOS) review in Urdu/Hindi language. In this review, we are going to explore what is this OS and how to use it.
I'm Aamir Shahzad from Attock City, Pakistan, fb.com/asakpke, introducing this Edu Gaming. The 1st question comes in mind what is this Edu Gaming OS or what's this Edu Gaming USB. This is a special OS dedicated to the school going kids, event non school going kids also get benefit from it.
Some people may ask me why did I created this Edu Gaming? Actually, Initially I did installed some educational/gaming software on the system of kids within my family. Later on I have decided to open it for rest of the world i.e my Attock City, my province Punjab, my country Pakistan and other countries. Let's see where it reaches.
In this review I have shown some Edu Gaming. You may be wondering will my PC support it? Maybe. It requires P4 (or maybe P3) with at least 512 RAM. 15 GB or more space is enough to install this Edu Gaming OS System.
What's the difference between Live USB and installed system? Settings, data, done levels of games and other things may not be saved on the USB. So on restart it may not show you those things. On the installed system all these things will stay in the system. So you may enjoy more with Edu Gaming. It's recommended to install this system but if you can't provide your system to us then this live USB is enough to play games.
Live USB requires at least 8 GB USB. If you have 16 GB USB then we may install Edu Gaming OS on your USB and you will get all the benefits of installed system on the USB.
What we are offering? We are offering following
8 GB Live USB
16 GB Installed USB
Installation on your hard disk or CPU
Best bet is to bring/send your USB/Hard disk/CPU and we will charge you the only the installation process Rs. 600. Other wise you have to pay USB charges and if you are ordering outside the Attock City/Country then you would also pay courier service charges.
Contact Mr. Abid Masood for installation, purchases and support. Here are his contact details.
Cell Phone Number: 0332-5602066
Address: AL-MASOOD COMPUTERS, basement, Sameer Plaza, near Fawara Chock, Attock City, Pakistan.
السلام علیکم، آپ کو تعلیمی/گیمنگ او ایس میں خوش آمدید! میں ہوں عامر شہزاد، اٹک شہر، پاکستان سے۔
تعلیمی/گیمنگ او ایس (روشن ٹیک جی ایم او ایس) کیا ہے؟
یہ اسکول جانے والے بچوں کے لیے بنایا گیا سسٹم ہے۔ اس میں تعلیمی، معلوماتی پروگرامز اور مختلف گیمز شامل ہیں۔ اس سے وہ بچے بھی فائدہ اٹھا سکتے ہیں جو ابھی اسکول جانا شروع نہیں ہوئے۔
گیمنگ او ایس کیوں بنایا؟
گیمز اور تعلیمی پروگرامز
میں آپ کو ابھی کچھ گیمز اور تعلیمی پروگرامز چلا کر چیک کراتا ہوں۔
کونسے سسٹم پر یہ او ایس چل جائے گا؟
پی فور یا شائد پی تھری، 512 ریم اور اگر انسٹالیشن کرنی ہے تو 15 سے 20 جی بی ہارڈ ڈسک
لائیو یو ایس بی اور انسٹالڈ سسٹم میں کیا فرق ہے؟
انسٹالڈ سسٹم پر مزید پروگرامز کی انسٹالیشن
ہم کیا آفر کر رہے ہیں؟
آٹھ جی بی لائیو یو ایس بی
سولہ جی بی انسٹالڈ یو ایس بی
آپکی ہارڈ ڈسک یا سی پی یو پر انسٹالیشن
تعلیمی/گیمنگ او ایس کی انسٹالیشن چارجز صرف چھ سو روپے ہیں۔ اگر آپ اپنی یو اس بی، ہارڈ ڈسک یا سی پی یو لاتےہیں تو آپ کو صرف انسٹالیشن چارجز ہی ادا کرنے ہونگے ورنہ یو ایس بی کے پیسے بھی ادا کرنے ہونگے۔ اگر آپ شہر کے باہر سے بھیجوا رہے ہیں تو آپ کو کوریئر سروس چارجز بھی ادا کرنے ہونگے۔
انسٹالیشن، خریداری اور سپورٹ
انسٹالیشن، خریداری اور سپورٹ کے لیے آپ میرے ساتھی عابد مسعود سے رابطہ کریں۔
Abid Masood
0332-5602066
AL-MASOOD COMPUTERS
Basement, Sameer Plaza, Near Fawara Chock, Attock City
Other Docs
More Info