Description
ملٹی بوٹ یو ایس بی کیا ہے؟
ملٹی بوٹ یو ایس بی ایک ایسی یو ایس بی ہے جس میں بہت سارے مختلف آپریٹنگ سسٹم و بےشمار ٹولز ایک ہی یو ایس بی میں دستیاب ہیں۔ملٹی بوٹ یو ایس بی میں دیے گئے سارے کے سارے آپریٹنگ سسٹم لائیو بوٹ کو سپورٹ کرتے ہیں۔ یعنی ان کو کمپیوٹر پر انسٹال کیے بغیر استعمال کیا جا سکتا ہے۔ملٹی بوٹ یو ایس بی میں دیے گئے کچھ آپریٹنگ سسٹم کمپیوٹر پر انسٹال بھی ہو سکتے ہیں۔بنیادی انسٹالیشن ویڈیوز اور استعمال کی کتابیں یو ایس بی میں شامل ہیں۔
بوٹ سکرین شاٹ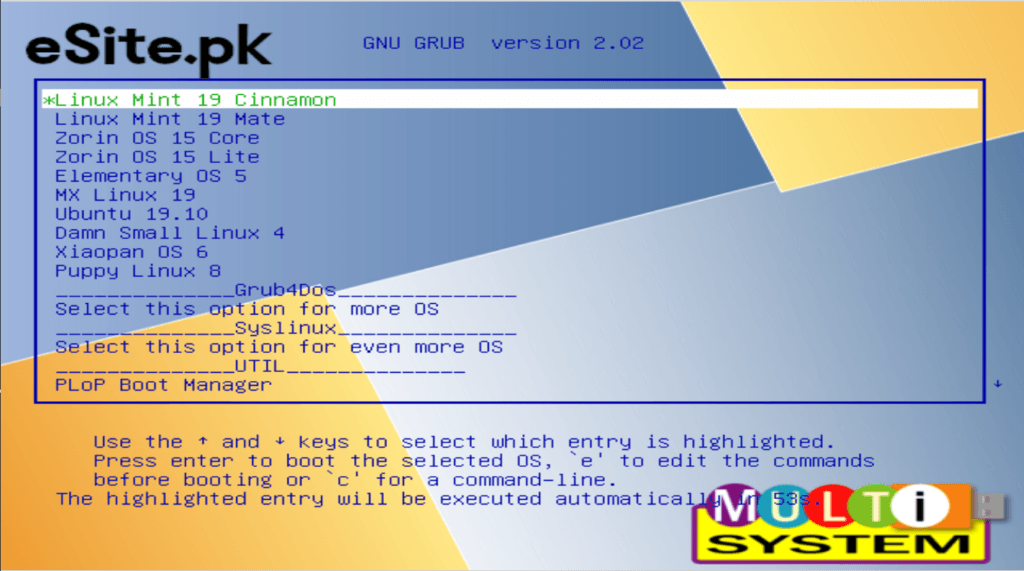 آپریٹنگ سسٹم کی لسٹ اور تفصیلات
ان آپریٹنگ سسٹم کے علاوہ آپ  ونڈوز کے انسٹالر و دیگر کئی آپریٹنگ سسٹم یو ایس بی میں شامل کر سکتے ہیں۔
Linux Mint Cinnamon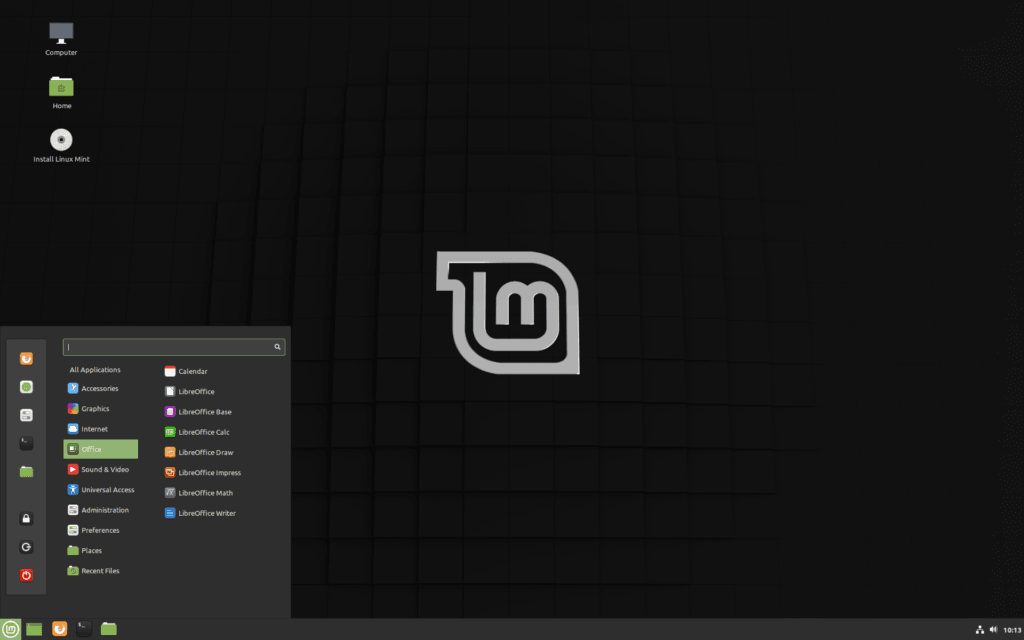 Linux Mint is an Ubuntu-based distribution whose goal is to provide a classic desktop experience with many convenient, custom tools and optional out-of-the-box multimedia support. It also adds a custom desktop and menus, several unique configuration tools, and a web-based package installation interface. Linux Mint is compatible with Ubuntu software repositories.
Cinnamon is a free and open-source desktop environment for the X Window System that derives from GNOME 3 but follows traditional desktop metaphor conventions. Cinnamon is the principal desktop environment of the Linux Mint distribution and is available as an optional desktop for other Linux distributions and other Unix-like operating systems as well.
Cinnamon is a Linux desktop which provides advanced innovative features and a traditional user experience. The desktop layout is similar to Gnome 2 with underlying technology forked from Gnome Shell. Cinnamon makes users feel at home with an easy to use and comfortable desktop experience. Go Back to the Top

Linux Mint Mate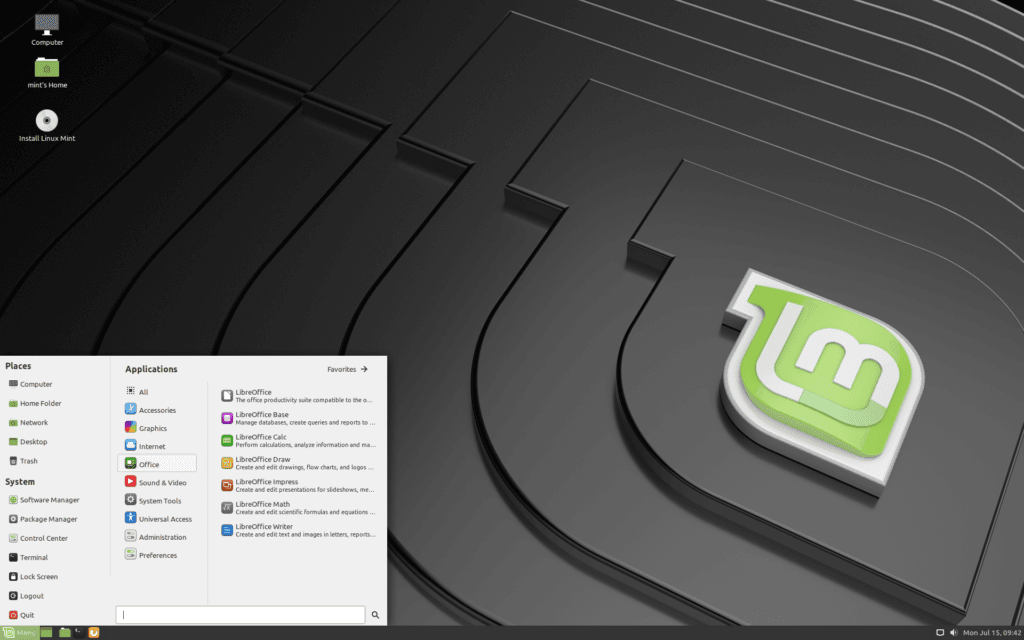 The MATE Desktop Environment is the continuation of GNOME 2. It provides an intuitive and attractive desktop environment using traditional metaphors for Linux and other Unix-like operating systems. Go Back to the Top

Zorin Core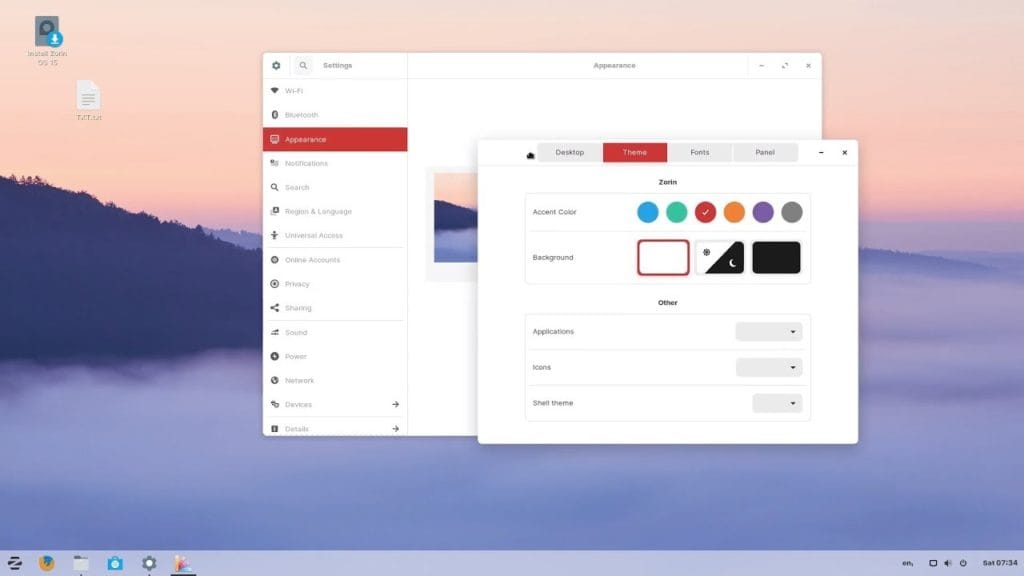 Zorin OS is an Ubuntu-based Linux distribution designed especially for newcomers to Linux. It has a Windows-like graphical user interface and many programs similar to those found in Windows. Zorin OS also comes with an application that lets users run many Windows programs. The distribution's ultimate goal is to provide a Linux alternative to Windows and let Windows users enjoy all the features of Linux without complications.
Zorin OS is the alternative to Windows and macOS designed to make your computer faster, more powerful, secure, and privacy respecting. Go Back to the Top

Zorin Lite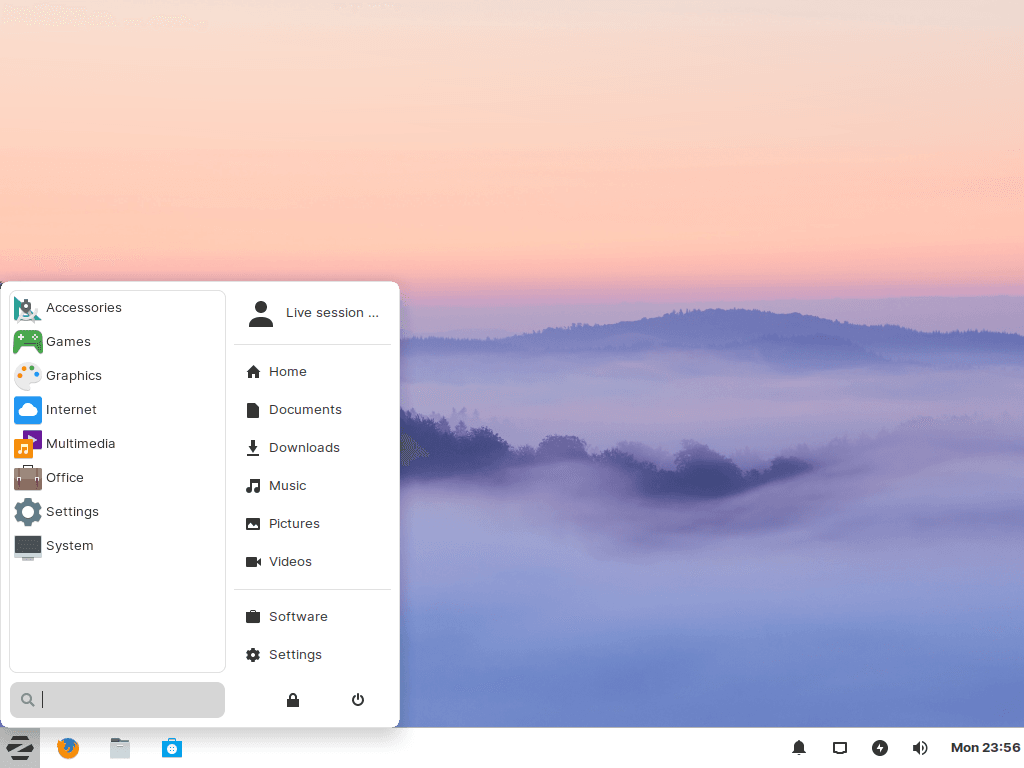 Zorin OS works lightning fast and doesn't slow down with updates. The Lite edition runs snappy on computers as old as 15 years, so you can breathe new life into old PCs. Go Back to the Top

Elementary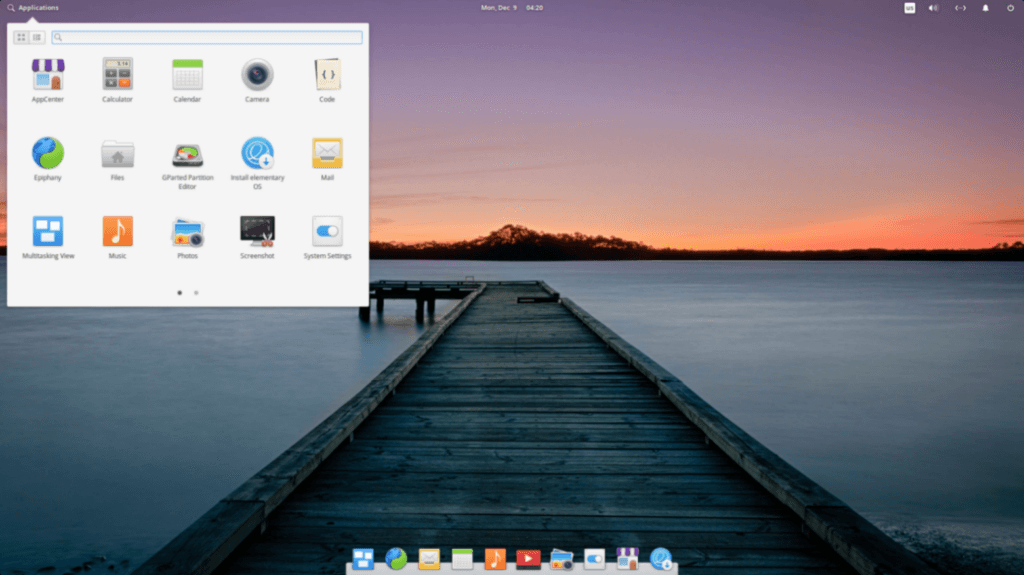 elementary OS is an Ubuntu-based desktop distribution. Some of its more interesting features include a custom desktop environment called Pantheon and many custom apps including Photos, Music, Videos, Calendar, Terminal, Files, and more. It also comes with some familiar apps like the Epiphany web browser and a fork of Geary mail.
Elementary OS is a fast, open, and privacy-respecting replacement for Windows and macOS Go Back to the Top

MX Linux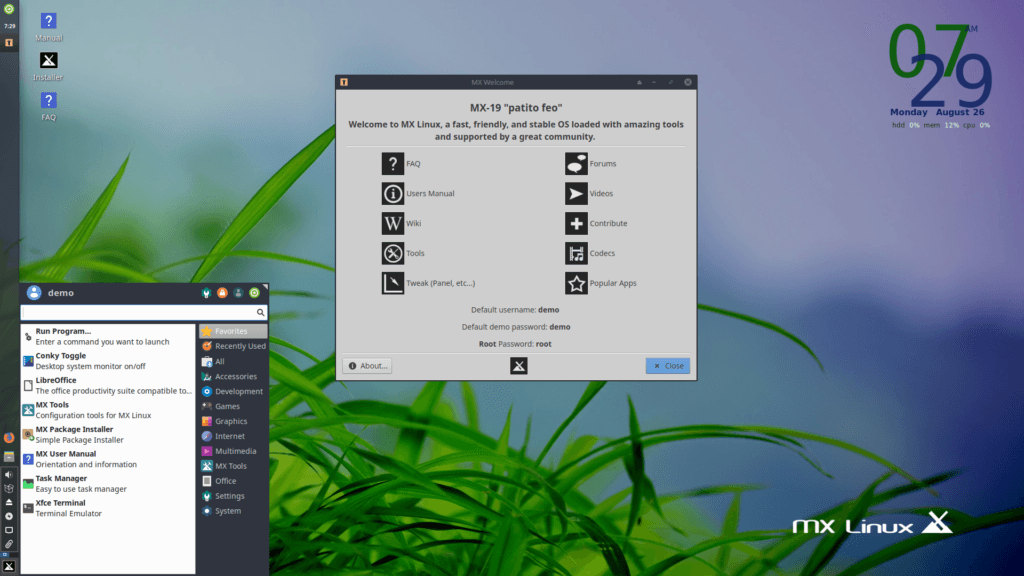 MX Linux, a desktop-oriented Linux distribution based on Debian's "stable" branch, is a cooperative venture between the antiX and former MEPIS Linux communities. Using Xfce as the default desktop, it is a mid-weight operating system designed to combine an elegant and efficient desktop with simple configuration, high stability, solid performance and medium-sized footprint. Go Back to the Top

Ubuntu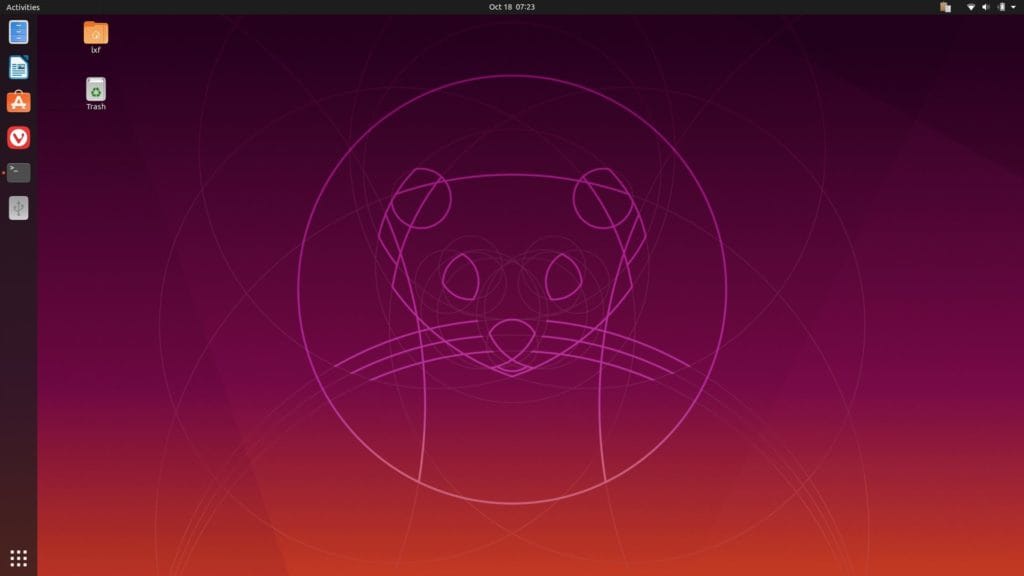 Ubuntu is a complete desktop Linux operating system, freely available with both community and professional support. The Ubuntu community is built on the ideas enshrined in the Ubuntu Manifesto: that software should be available free of charge, that software tools should be usable by people in their local language and despite any disabilities, and that people should have the freedom to customise and alter their software in whatever way they see fit. "Ubuntu" is an ancient African word, meaning "humanity to others". The Ubuntu distribution brings the spirit of Ubuntu to the software world.
Fast, secure and simple, Ubuntu powers millions of PCs worldwide. The open source Ubuntu desktop operating system powers millions of PCs and laptops around the world. Ubuntu comes with everything you need to run your organisation, school, home or enterprise. All the essential applications, like an office suite, browsers, email and media apps come pre-installed and thousands more games and applications are available in the Ubuntu Software Centre. Go Back to the Top

DSL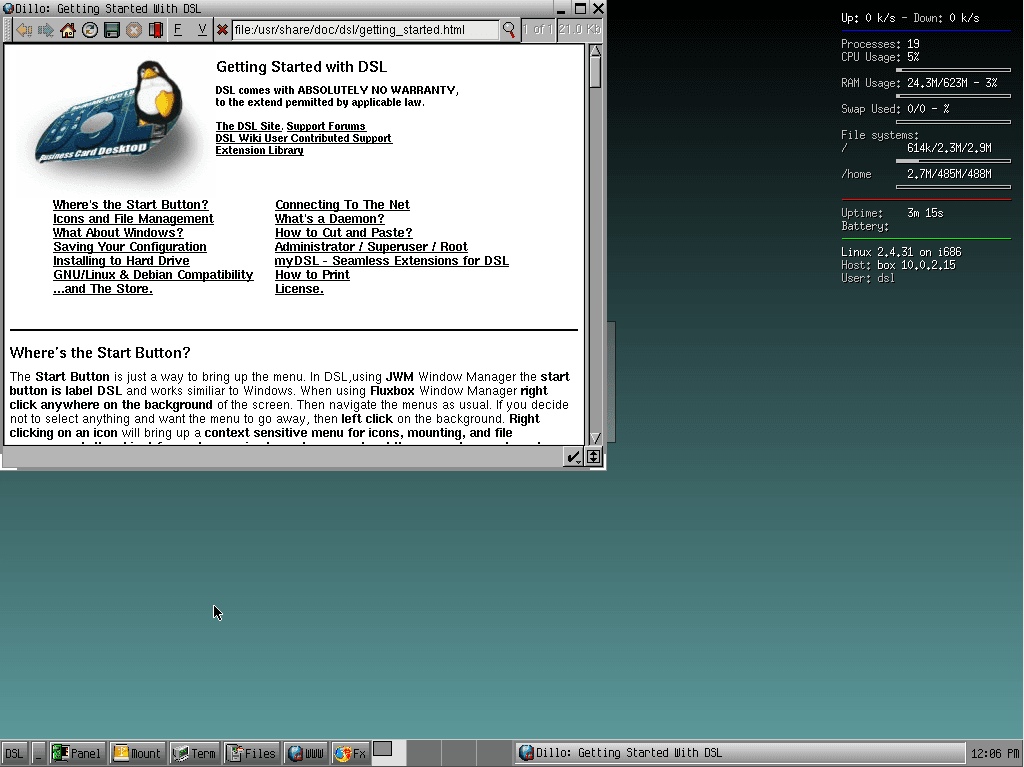 Damn Small Linux is a business card size (50MB) live CD Linux distribution. Despite its minuscule size it strives to have a functional and easy to use desktop. Damn Small Linux has a nearly complete desktop, including XMMS (MP3, and MPEG), FTP client, links-hacked web browser, spreadsheet, email, spellcheck (US English), a word-processor, three editors (Nedit, nVi, Zile [emacs clone]), Xpdf, Worker (file manager), Naim (AIM, ICQ, IRC), VNCviwer, SSH/SCP server and client, DHCP client, PPP, PPPoE, a web server, calculator, Fluxbox window manager, system monitoring apps, USB support, and soon it will have PCMCIA support as well. If you like Damn Small Linux you can install it on your hard drive. Because all the applications are small and light it makes a very good choice for older hardware.
Damn Small Linux is a very versatile 50MB mini desktop oriented Linux distribution. Damn Small is small enough and smart enough to do the following things:
Boot from a business card CD as a live linux distribution (LiveCD)
Boot from a USB pen drive
Boot from within a host operating system (that's right, it can run *inside* Windows)
Run very nicely from an IDE Compact Flash drive via a method we call "frugal install"
Transform into a Debian OS with a traditional hard drive install
Run light enough to power a 486DX with 16MB of Ram
Run fully in RAM with as little as 128MB (you will be amazed at how fast your computer can be!)
Modularly grow — DSL is highly extendable without the need to customize
Xiaopan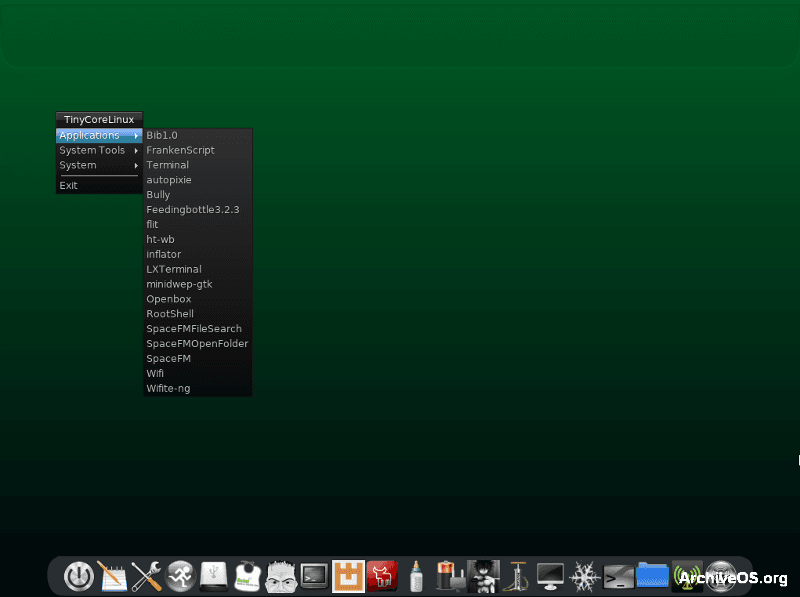 Xiaopan OS is an easy-to-use live Linux distribution that includes a number of advanced hacking tools to penetrate WPA / WPA2 / WPS / WEP wireless networks. Based on Tiny Core Linux, it has a slick graphical user interface requiring no need for typing Linux commands. Xiaopan OS is compatible with Windows, OS X and Linux.
Xiaopan OS is an easy to use software package for beginners and experts that includes a number of advanced hacking tools to penetrate WPA / WPA2 / WPS / WEP wireless networks. Based on the Tiny Core Linux (TCL) operating system (OS), it has a slick graphical user interface (GUI) requiring no need for typing Linux commands. Xiaopan OS is Windows, Mac and Linux compatible and users can simply install and boot this ~70mb OS through a USB pen drive or in a virtual machine (VM) environment. Some of the tools included are Inflator, Aircrack-ng, Minidwep GTK, XFE, wifite and feeding bottle. Supported cards include RTL8187L, RT3070, AR9271 and many more. Go Back to the Top

Kolibri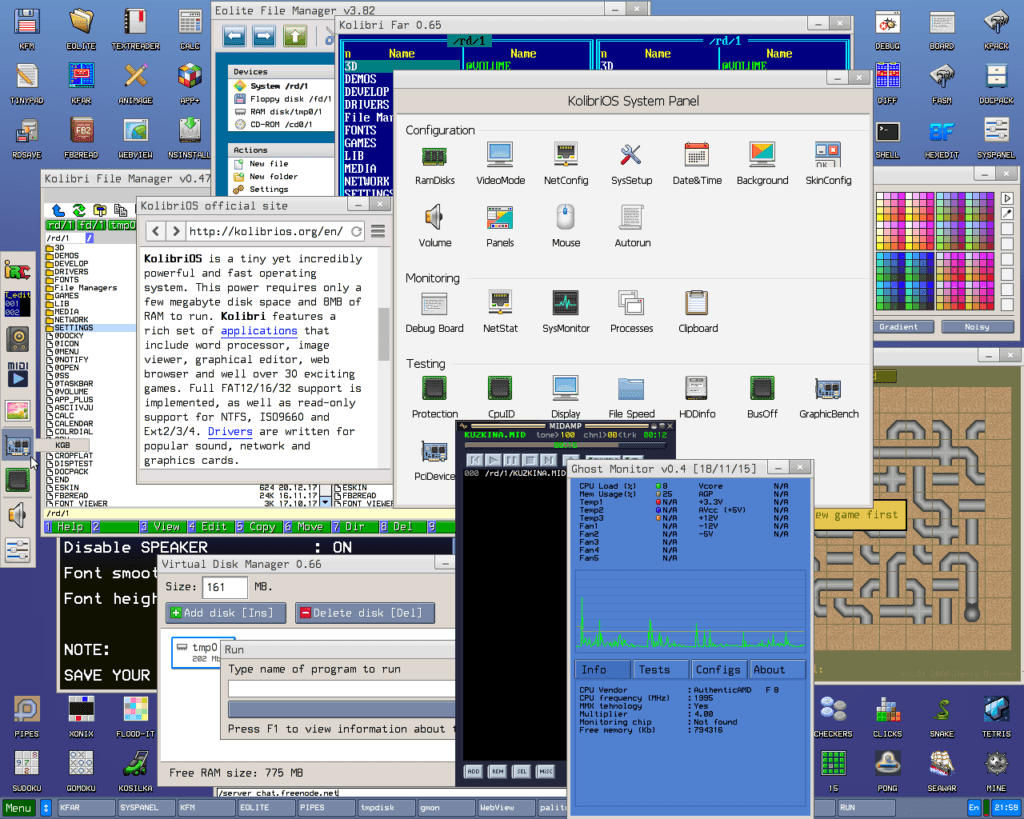 KolibriOS is a tiny open-source operating system with a monolithic preemptive kernel and video drivers for 32-bit x86 architecture computers. KolibriOS is a fork of MenuetOS, written entirely in FASM (assembly language). However, C, C++, Free Pascal, Forth, among other high-level languages and compilers, can also be used in application development. KolibriOS features a rich set of applications that include a word processor, image viewer, graphical editor, web browser, and over 30 games.
KolibriOS is a tiny yet incredibly powerful and fast operating system. This power requires only a few megabyte disk space and 8MB of RAM to run. Kolibri features a rich set of applications that include word processor, image viewer, graphical editor, web browser and well over 30 exciting games. Full FAT12/16/32 support is implemented, as well as read-only support for NTFS, ISO9660 and Ext2/3/4. Drivers are written for popular sound, network and graphics cards. Have you ever dreamed of a system that boots in less than 10 seconds from power-on to working GUI, on $100 PC? Applications that start instantly, immediately after clicking an icon, without annoying hourglass pointers? This speed is achieved since the core parts of KolibriOS (kernel and drivers) are written entirely in FASM assembly language! Try Kolibri and compare it with such heavyweights as Windows and Linux. Go Back to the Top

FreeDos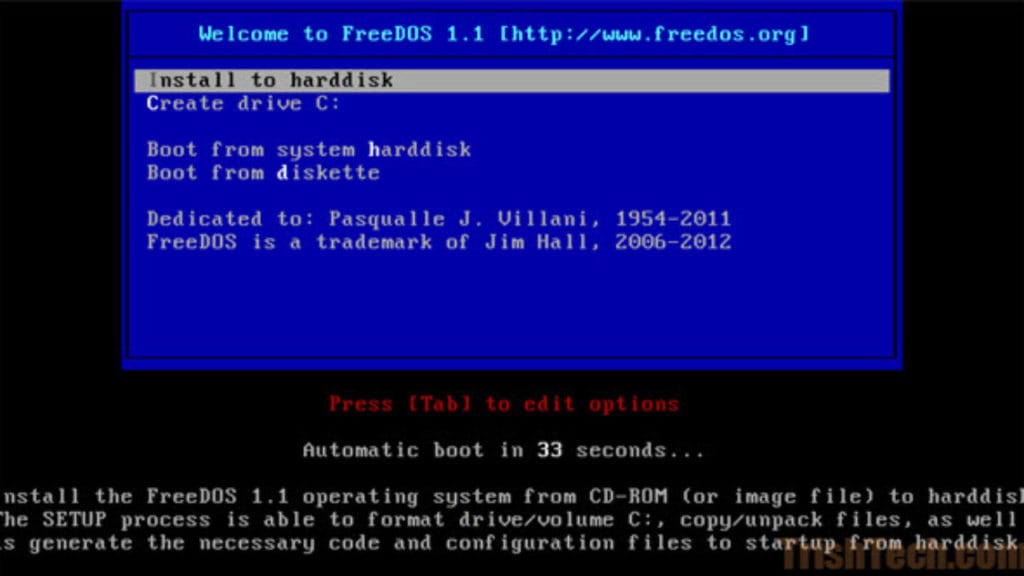 While FreeDOS is not a Unix, Linux or BSD derived operating system, it is an open source platform. FreeDOS, at its core, seeks to duplicate the Microsoft DOS platform while adding its own utilities and features. This combination results in a very familiar (and almost 100% compatible) DOS environment with a few modern and convenient features. Computer World interviewed FreeDOS's creator, Jim Hall, last week. In the interview, Hall talks about the early days of FreeDOS, debates around modernizing DOS and ways in which DOS is still useful to many people. Hall says DOS still runs on older equipment and can keep legacy applications running: "'FreeDOS is still intended for Intel and Intel-compatible computers. You should still be able to run FreeDOS on your old 486 or old Pentium PC to play classic DOS games, run legacy business programs, and support embedded development.'" The full interview is an interesting read and explores where FreeDOS has been and where it is going.
FreeDOS is open source software! It doesn't cost anything to download and use FreeDOS. You can also share FreeDOS for others to enjoy! And you can view and edit our source code, because all FreeDOS programs are distributed under the GNU General Public License or a similar open source software license. Go Back to the Top

Hiren's BootCD PE (Preinstallation (Windows 10) Environment)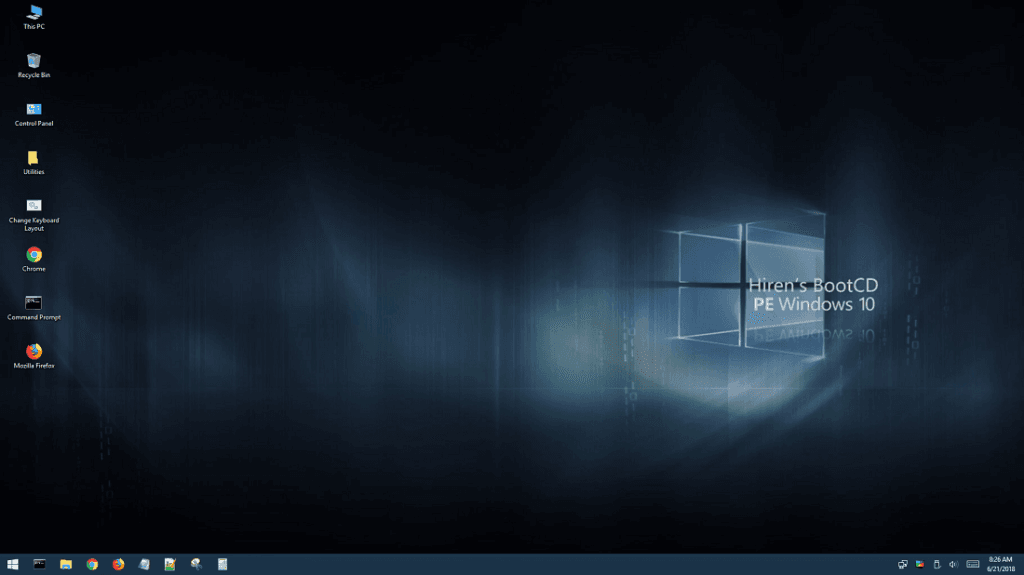 Hiren's BootCD PE (Preinstallation Environment) is a restored edition of Hiren's BootCD based on Windows 10 PE x64. Since there are no official updates after November 2012, PE version is being developed by Hiren's BootCD fans. It includes the least, best and updated free tools used in Hiren's BootCD. It is being developed for the new age computers, it supports UEFI booting and requires minimum 2 GB RAM.
With the useful tools inside of the ISO, you can solve many problems related with your computer. It does not contain any pirated software, it includes only free and legal software.
After boot, PE version tries to install drivers like graphics, sound, wireless and ethernet card for your hardware. So that you can connect to a WIFI or Ethernet network.
Following are the tools included:
BCD-MBR Tools
BootIce v1.3.3
EasyBCD v2.3
Hard Disk Tools – Data Recovery
CheckDisk GUI v1.2.0
Lazesoft Data Recovery v4.0.0.1
Puran Data Recovery v1.2.0
Puran File Recovery v1.2.0
Recuva v1.53.0.1087
Runtime GetDataBack for FAT v4.3.3
Runtime GetDataBack for NTFS v4.3.3
Runtime GetDataBack Simple v5.0.0
Runtime NAS Data Recovery v4.0.0
Runtime RAID Reconstructor v4.4.0
Runtime RAID Recovery for Windows v4.0.0
Hard Disk Tools – Defrag
Defraggler v2.22.33.995
Hard Disk Tools – Diagnostic
GSmartControl v1.1.3
HDDScan v4.0
HDTune v2.55
WD Data Lifeguard Diagnostics v1.31
Hard Disk Tools – Disk Explorer
Runtime Captain Nemo v7.0.0
Runtime DiskExplorer for FAT v4.3.2
Runtime DiskExplorer for Linux v4.3.6
Runtime DiskExplorer for NTFS v4.3.2
Hard Disk Tools – Imaging
Acronis TrueImage 2018 build 11530
AOMEI Backupper v4.1.0
Lazesoft Disk Image & Clone v4.0.0.1
Macrium Reflect PE v7.1.3196
Runtime DriveImage XML v2.6.0
Hard Disk Tools – Partition Tools
AOMEI Partition Assistant v7.0.1
Macrorit Partition Extender v4.9.3
Hard Disk Tools – Security
HDD Low Level Format Tool v4.40
Windows Recovery
Lazesoft Windows Recovery v4.0.0.1
Other Tools
FSViewer v6.5.0
Free Office rev 703
Sumatra PDF v3.1.2
7-Zip v18.05
ExamDiff Pro v10.0.0.6
HxD v2.0.0
Notepad++ v7.5.6
WinMerge v2.14
Removable Drive Tools
CDBurnerXP v4.5.8.6795
Rufus v3.0.1304
Security – AntiVirus
ESET Online Scanner v2.0.22
Malwarebytes Anti-Malware v2.2.1.1043
Security – KeyFinders
ProduKey v1.92
ShowKeyPlus v1.0.6610
Security – Passwords
Lazesoft Password Recovery v4.0.0.1
NT Password Edit v0.7
System Tools
CPU-Z v1.85.0
GPU-Z v2.9.0
HWInfo v5.84-3450
Speccy v1.32.740
TechBench ISO Downloader v4.13
WinNTSetup v3.9.0
Attribute Changer v9.0
CCleaner v5.43.6522
Change Keyboard Layout v1.0.0
Dependency Walker v2.2.6
Registry Backup v3.5.3
Regshot v2.0.1.70
SysInternals Suite
Windows PowerShell v1.0
Network
Aero Admin v4.5
Teamviewer v6.0.10511
Acrylic Wi-Fi Home v3.3.0
Chrome v67.0.3396.62
Mozilla Firefox v60.0.1.6710
PENetwork v0.59.0.4
ہدایات
سب سے اہم بات آپ کو یہ معلوم ہونی چاہیے کہ کمپیوٹر کو یو ایس بی سے کیسے بوٹ کرنا ہے۔ مثلاً سب سے پہلے، آپکا کمپیوٹر بند ہونا چاہیے۔ پھر ملٹی بوٹ یو ایس بی کمپیوٹر کے ساتھ لگائیں۔ اور کمپیوٹر کو آون کریں۔
مختلف کمپیوٹر کی مختلف بوٹ سیٹنگ ہوتی ہے۔ مثلاً بعض کمپیوٹر کو آون کرنے کے بعد کیبورڈ سے ایف 12 کی دبانے سے بوٹ آپشن ظاہر ہوتی ہیں۔ بعض کی ایف 9 کی، بعض کی اسکیپ کی اور بعض کی ڈیلیٹ کی دبانے سے۔
اگر آپ کو نہیں معلوم تو جن سے کمپیوٹر خریدا ہے ان سے پتہ کر لیں کہ کمپیوٹر کو یو ایس بی سے بوٹ کرنے کا کیا طریقہ ہے۔
یا انٹرنیٹ پر اپنے کمپیوٹر کا نام لکھ کر یو ایس بی بوٹ آپشن تلاش کر لیں۔
پھر بوٹ آپشن میں سے یو ایس بی کو منتخب کر لیں
بہتر ہے کہ ملٹی بوٹ یو ایس بی کو کسی چلتے ہوئے کمپیوٹر کے ساتھ مت لگائیں ورنہ اسکا بوٹ سسٹم خراب ہو سکتا ہے۔ مثلاً کسی آون کمپیوٹر پر ونڈوز چل رہی ہے، وہاں اس ملٹی بوٹ یو ایس بی کو نہ لگائیں۔
کسی بھی آپریٹنگ سسٹم کو بوٹ کرتے وقت کم ازکم چند سیکنڈ یا ایک منٹ تک کا وقت دیں۔ بعض آپریٹنگ سسٹم دیر سے بوٹ ہوتے ہیں اور بظاہر سکرین پر کوئی تبدیلی ظاہر نہیں ہوتی۔
اگر کوئی آپریٹنگ سسٹم بوٹ نہیں ہو رہا تو کمپیوٹر کو ری سٹارٹ کر کے چیک کریں۔ بعض اوقات مختلف چیزیں تجربہ کرنے کی وجہ سے آپریٹنگ سسٹم بوٹ نہیں ہوتا۔
اگر کوئی آپریٹنگ سسٹم آپ کے کمپیوٹر پر نہیں چل رہا تو کسی اور کمپیوٹر پر تجربہ کریں، ممکن ہے کہ آپ کے کمپیوٹر کا ہارڈویئر اسے سپورٹ نہ کرتا ہو۔
اگر آپ کے کمپیوٹر میں سیکوئر بوٹ کی آپشن دستیاب ہے تو ممکن ہے کہ آپ کو یو ایس بی بوٹ کرنے کے لیے اسے بند کرنا پڑے۔