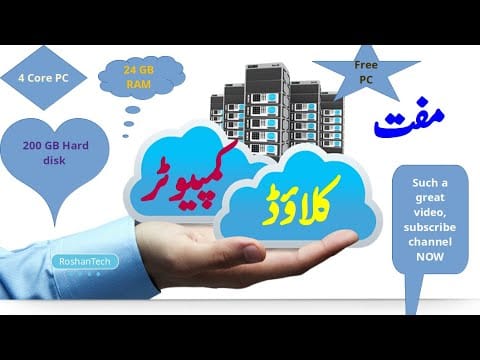 Sometime you computer don't have enough power to function. What if you had a free cloud computer with a lot of resources? Yes freely available using free tier, always free for unlimited times. That's the offer demonstrated in the video. Why not try it now?
Build, test, and deploy applications on Cloud—for free. New Always Cloud Free services have been added, including Arm Ampere A1 Compute. For large-scale Arm development projects you can apply for OCI Arm Accelerator.
What's included with Cloud Free Tier? *
Always Free cloud services – Services you can use for an unlimited time.
Two Autonomous Databases with powerful tools like APEX and SQL Developer
Two AMD Compute VMs
Up to 4 instances of ARM Ampere A1 Compute with 3,000 OCPU hours and 18,000 GB hours per month
Block, Object, and Archive Storage; Load Balancer and data egress; Monitoring and Notifications
How it works
Use your Always Free resources as long as you want with no time constraints—subject only to the capacity limits noted. When your 30-day trial period for the expanded set of services ends, you can continue using Always Free services with no interruption. Always Free and Free Trial instances can be seamlessly upgraded to paid at any time. Existing Cloud customers have access to Always Free services automatically—no new sign up required.
What are Always Free cloud services?
Infrastructure: 2 AMD based Compute VMs with 1/8 OCPU** and 1 GB memory each, Arm-based Ampere A1 cores and 24 GB of memory usable as 1 VM or up to 4 VMs with 3,000 OCPU hours and 18,000 GB hours per month, 2 Block Volumes Storage, 200 GB total, 10 GB Object Storage – Standard, 10 GB Object Storage – Infrequent Access, 10 GB Archive Storage, Resource Manager: managed Terraform, 5 OCI Bastions
Databases: Your choice of Autonomous Transaction Processing, Autonomous Data Warehouse, Autonomous JSON Database, or APEX Application Development. Two databases total, each with 1 OCPU** and 20 GB storage. NoSQL Database with 133 million reads per month, 133 million writes per month, 25 GB storage per table, up to 3 tables.
Observability and Management: Monitoring: 500 million ingestion datapoints, 1 billion retrieval datapoints, Application Performance Monitoring: 1000 tracing events per hour, Logging: 10 GB per month, Notifications: 1 million sent through https per month, 1000 sent through email per month, Service Connector Hub: 2 service connectors
Additional services: Flexible Load Balancer: 1 instance, 10 Mbps, Flexible Network Load Balancer, Outbound Data Transfer: 10 TB per month, Virtual Cloud Networks (VCN): Maximum of 2 VCNs, includes IPv4 and IPv6 support, VCN Flow Logs: Up to 10 GB per month shared across OCI Logging services, Site-to-Site VPN: 50 IPSec connections, Content Management Starter Edition: 5000 assets per month, Certificates: 5 Private CA and 150 private TLS certificates, Email Delivery: 100 emails sent per day
What is Cloud Free Tier?
Cloud Free Tier allows you to sign up for an Cloud account which provides a number of Always Free services and a Free Trial with US$300 of free credit to use on all eligible Cloud Infrastructure services for up to 30 days. The Always Free services are available for an unlimited period of time. The Free Trial services may be used until your US$300 of free credits are consumed or the 30 days has expired, whichever comes first.
What are Always Free services?
Always Free services are part of Cloud Free Tier. Always Free services are available for an unlimited time.
Who is eligible for Cloud Free Tier?
Anyone who has previously not signed up.
Is Cloud Free Tier available in all countries?
Yes, Cloud Free Tier is currently available worldwide. See the data regions page for detailed service availability. If you are unable to find the country or territory you require, please contact Sales or Cloud Support using the Chat link in the menu bar. The Sales team can help you sign up for Cloud Free Tier.
#FreeCloud #FreeComputer #FreePC #OnlinePC #CloudPC #CloudOnline #FreeTier #AlwaysFree #UnlimitedTime
Free Cloud, Free Computer, Free PC, Online PC, Cloud PC, Cloud Online, Free Tier, Always Free, Unlimited Time
Main website for signup.
oracle . com / cloud / free /
(Plz remove space above)
Download Putty software for SSH access.
putty . org
(Plz remove space above)
Following are the command to execute on cloud computer only once.
sudo apt update && sudo apt upgrade -y
sudo apt-get install ubuntu-desktop xrdp stacer -y
sudo cp /etc/iptables/rules.v4 /etc/iptables/rules.v4.bak && sudo truncate -s 0 /etc/iptables/rules.v4
sudo rm /usr/share/polkit-1/actions/org.freedesktop.color.policy
sudo passwd ubuntu
sudo reboot
sudo apt install firefox gnome-software
You can use any RDP software from Windows, tablet or Android to connect with your cloud computer using GUI.
play . google . com / store / apps / details?id=com.microsoft.rdc.androidx
(Plz remove space above)