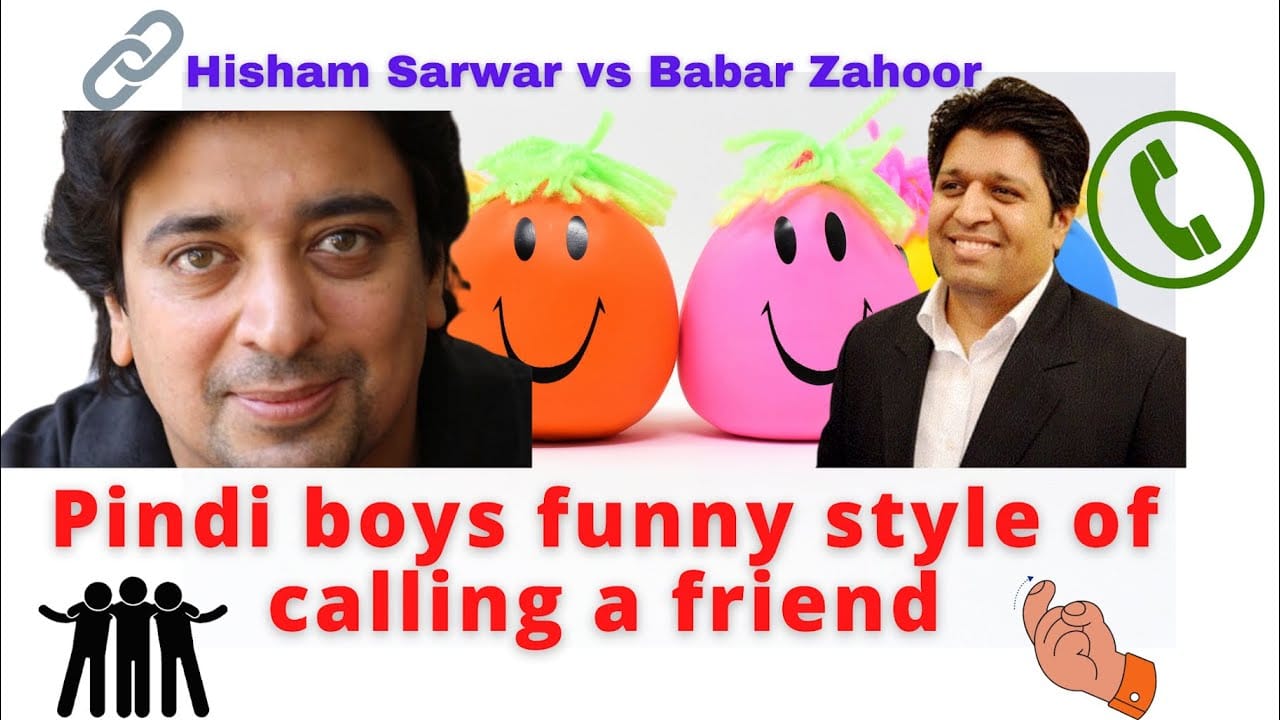 Calling a friend with funny style, here are the #PindiBoys. Pindi boys are famous for their style. Below is my joyous memories with pindi boys. By the way, I belongs to Attock city 🙂
Note: this video shot is taken from my live session with Babar Zahoor & Hisham Sarwar regarding creating/building Ubuntu based Linux distro. You can also review few of my custom made distros on website www.eSite.pk. Here's the original video link
https://youtu.be/FJN3PA-CVz4
While sitting on the couch; researching for some new ideas; I heard the voice "Raja g". Upon hearing the dialect my mind recalled university memories. Especially the bonds of friendship and the burden of assignments.
Do you know who "PINDI BOYS" are? What meaning do you infer from this pair of words? It's okay if you haven't heard this term before. Previously, this sound seemed unfamiliar to me as well. Briefly, Rawalpindi citizens, who are seen/settled in Islamabad whether for study or job purposes.
In life, you come across certain personalities who cast a deep impact on you. Either their impressive and chic looks imprint on the mind or their attitude towards you. Throwback to university life, there was a group of cheerful and friendly-nature boys, popular as PINDI BOYS. From that group, amazingly I find a reputed way of calling anybody. They merge "g" as a surname. For example, "Abasi g", "Raja g", etc. To style hair, they use slime or jell. And their affection for bike riding is beyond what one can explain through words. Another laughter session initiates while explaining to other fellows about wheeling styles these boys perform while riding. The long drive on silencer-less bikes, after the lecture time, was among the golden memories.
You can identify them due to their specific Punjabi accent. I can bet you would never find such affable souls like PINDI BOYS. During student life, we want to get rid of heavy satchel and boredom assignments. However, in professional life, we miss school, college, and university life. Perhaps, at that time we have a daily meet-up with friends and time for gossip. But, now we wait for some carnival for a reunion.
While summing up, I want to ask for your delightful memories with "PINDI BOYS" friends. Let's share to decorate little moments with a smile.
_____________________________/ SOCIAL LINKS ___________________________________
Facebook (personal): https://www.facebook.com/asakpke
Facebook (Roshan Tech): https://www.facebook.com/RoshanTech
Facebook (Urdu): https://www.facebook.com/asakpke.urdu
Facebook (Free Wide Development): https://www.facebook.com/FreeWebDevelopmentOnline
Facebook (مفت لینکس انسٹالیشن سینٹر): https://www.facebook.com/LinuxIC
Facebook (Free Point of Sale POS Software): https://www.facebook.com/FreePOSSoftware
Facebook (مفت پوائنٹ آف سیل سافٹ ویئر): https://www.facebook.com/MuftPOSSoftware
Instagram (personal): https://www.instagram.com/asakpke
Twitter (personal): https://twitter.com/asakpke
LinkedIn (personal): https://www.linkedin.com/in/asakpke
Reddit (personal): https://www.reddit.com/user/asakpke
Signal/WhatsApp (personal): 03005393652
Signal/WhatsApp (FREE Wide Development):
https://signal.group/#CjQKIIssIuNAzXUTNutw2TIOPso2Hw3W11Lc6nFELTzPQQHSEhD4buQi25ABWVuAyoZKfevd
https://chat.whatsapp.com/E30lFfs5kWAFqTh3fB54G7
WhatsApp (RoshanOS): https://chat.whatsapp.com/KnyUa99mXjj6v8fW4PEckW
Daraz Shop: https://www.daraz.pk/shop/roshantech/
Urdu Web Mehfil: https://www.urduweb.org/mehfil/members/asakpke.2461/
GitHub: https://github.com/asakpke
_____________________________/ MORE INFO ___________________________________
https://esite.pk/
https://asakpke.blogspot.com/
https://asakpke-urdu.blogspot.com/
https://linux-ic.blogspot.com/
Become a patron https://www.patreon.com/asakpke
https://www.youtube.com/channel/UCmSdMtbVfU2vxpJrsOQGVJA?sub_confirmation=1